Canada

Poetry format book
The Canadian government instigated a program called north3 to give voice to the indigenous people of the northern regions. The earth is crowned with a unique and special region known as the circumpolar world. Its vast spaces include the people and the territory of Canada, Russia, Finland, Norway, Sweden, Iceland, Greenland and Alaska. The circumpolar world is connected by the Arctic Ocean and northern waterways. Its residents feel the same winds and breathe the same air.
Over a longer period stories, anxieties, fears, hope & general comments on the northern regions position in the world today, especially with focus on the soon to boom natural resource explorations in the regions where collected.
Northern Voices
Here is a sample of some of the contributions:
We must protect our environment. Because to hurt the Earth is to hurt yourself.

We are very concerned about the pollution. In spring and in summer we clean the town from litter in the parks, near the houses, in the streets and squares.

We can help nature by saving energy and different natural material -reducing electricity and gas, reusing glass bottles, plastic, recycling paper, cans. It can help our forests, water resources and animals.
We collected these text bites in a booklet laid out in Greenlandic and published in a limited run as would a poetry collection
Kalaallisut
Greenlandic is a curious language with extremely long sentences and very long words with an amazing amount of vowels. This complicated the text layout considerably and the process was an eye opener for us.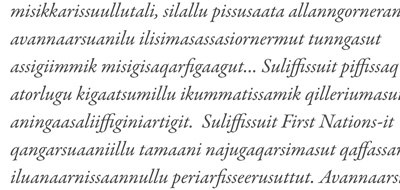 All the current software for text-layout does not support minority languages and we had to invent our own rules for the specific purpose of setting up this text.
contact us for more information about this project.